Hoppin' Around Flo-Town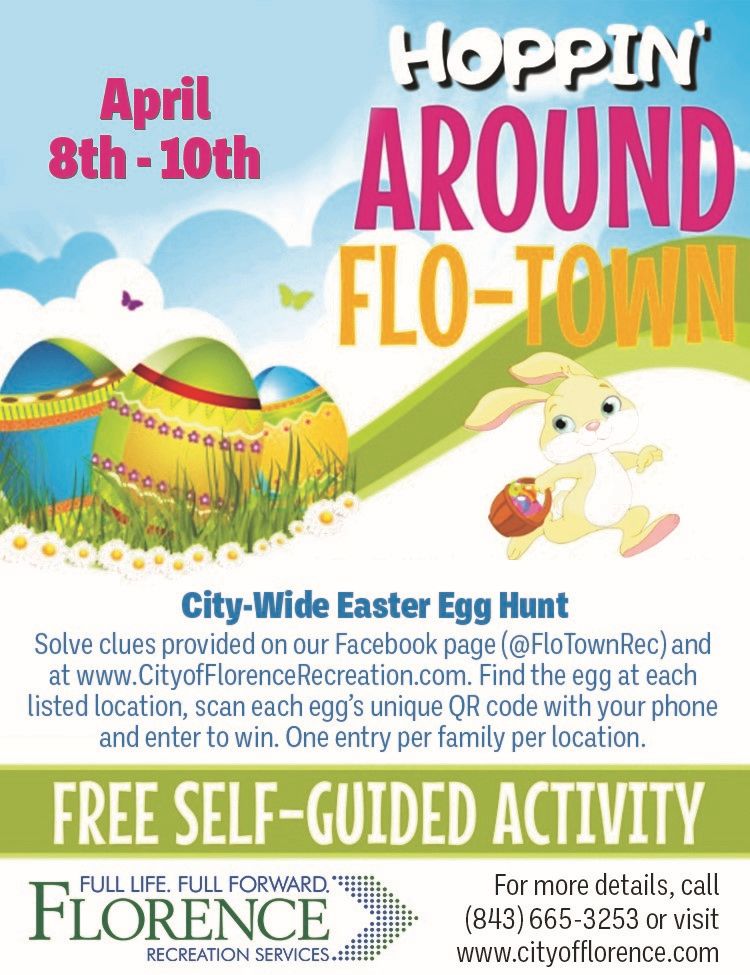 Hoppin' Around Flo-Town is returning!
Join us in a city-wide scavenger hunt April 8th through the 10th. Large Easter eggs will be hidden around the city for you to find! Each egg will have a unique QR code to be scanned with your smart phone to be entered to win a prize! One entry per family per location PLEASE!
Clues can be found by visiting

https://bit.ly/35u6Yt0. Please respect and follow all park rules, parks are open one our before sunrise to one hour after sunset.
If you have any questions please call (843)665-3253 during business hours (Monday through Friday 8:30AM to 5:30PM) or email gsturkie@cityofflorence.com. The eggs are the property of the City of Florence and should not be removed by the public. Anyone that moves or removes the hidden eggs are subject to disqualification.
The fine print: We will be awarding three prizes. For each location that you visit, scan the QR code, and fill out the necessary information your name will be put into a random generator. Three names will be randomly chosen to win one of our prizes! In addition we will have a funny photo contest. Share your funniest photo with us at each location - email the photo to gsturkie@cityofflorence.com along with your full name. After you have shared your photo it will be put on Facebook for everyone to vote! The most voted on by the public will win a prize, as well as the most voted by our recreational staff.
IF YOU GET TO A LOCATION AND THE EGG IS MISSING TAKE A PICTURE OF YOURSELF IN THE LOCATION. Email your photo, name, phone number, and home address to gsturkie@cityofflorence.com to be entered. The picture must include you to be entered this way.